GUIDE:
Getting Started
Within Choozle, you have several opportunities to generate and save reports on the results of your Web Insights and campaigns.
Detailed Reports
The demand for marketers to showcase campaign performance is higher than ever, and Choozle is meeting this demand with the Detailed Reports feature. Detailed Reports provides expanded reporting across many key data points, such as creative, sites, geolocation, browser, device type, etc., that streamline campaign optimization.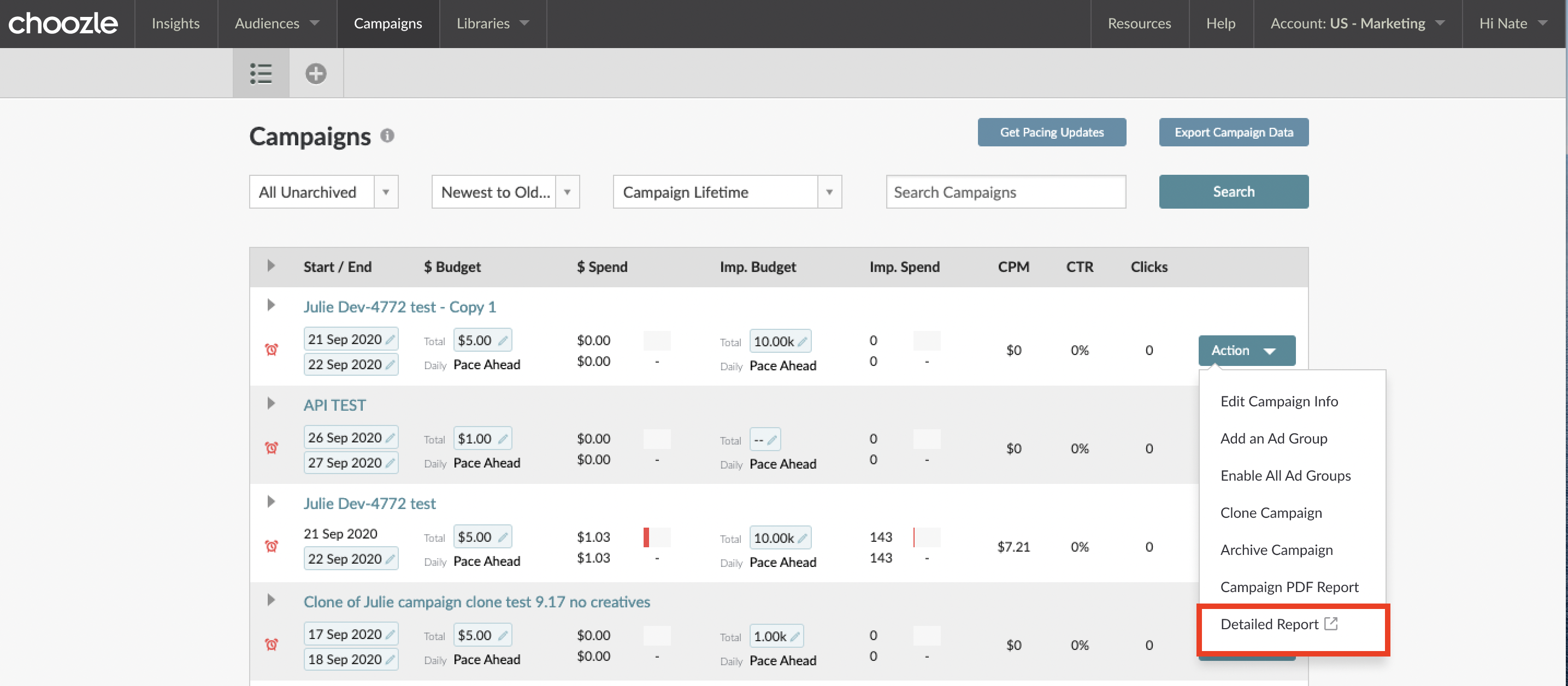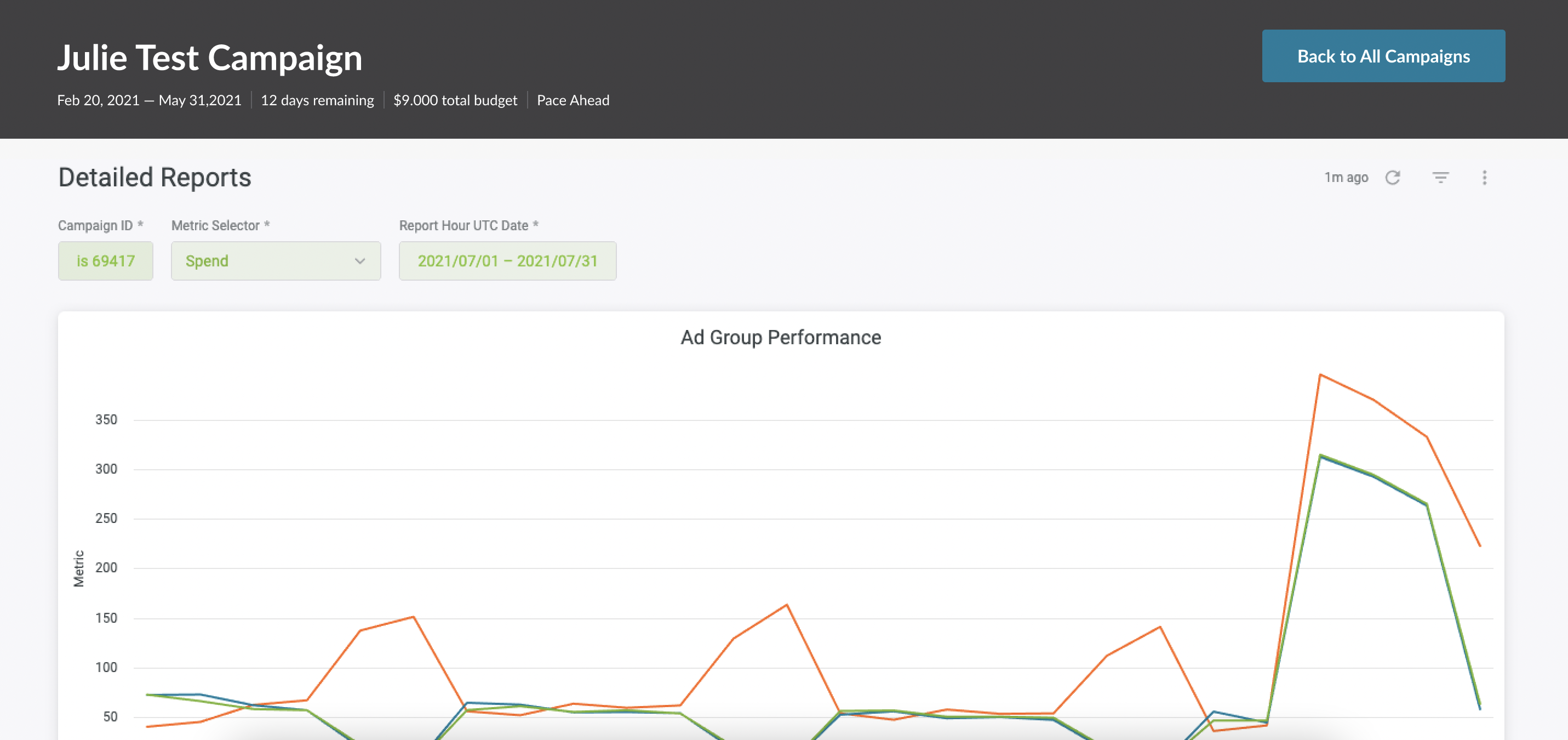 Viewable within the 'Action' button on campaigns and ad groups, these reports are accessible on the campaign and ad group levels. Each of the reports will be similar in data points, however, the ad group report will be exclusive for the ad group you are selecting.
Below is an overview of the charts and data points that will be available across Detailed Reports.
Campaign Overview

Campaign Overall Pacing
Campaign Daily Recommended Budget
Campaign Total Budget
Campaign Spend
Campaign Impressions
Campaign Win Rate

Campaign CPM
Campaign CPC
Campaign CTR
Campaign CPA (1-25)
Campaign Clicks
Campaign Conversions (1-25)
Campaign VCR
Campaign CPCV

Campaign Details

Campaign Top Performing Sites
Campaign Top Performing Private Marketplace Deals
Campaign Top Performing Creative
Campaign Top Performing Devices
Campaign Top Geolocations by Clicks
Campaign Top Geolocations by Impressions
Campaign Top Performing Creative Size by CTR



Campaign Ad Environment performance
Campaign Fold Position Performance
Campaign Supply Vendor Performance
Campaign ​​Browser Performance
Campaign CPA by Time of day
Campaign CTR by Time of day
Campaign CTR by Device type

Ad Group Overview

Ad Group Total Budget
Ad Group Spend
Ad Group Impressions
Ad Group Win Rate
Ad Group CPM
Ad Group CPC

Ad Group CTR
Ad Group clicks
Ad Group conversions (1-25)
Ad Group CPA (1-25)
Ad Group VCR
Ad Group CPCV

Ad Group Detail

CPA by Time of Day
CTR by Time of Day
CTR by Device Type

Top Geolocations by Clicks
Top Performing Sites
Top Geolocations by Impressions
Detailed Reports can quickly and easily inform optimization decisions for your campaigns. Instead of waiting for reports to download, users can now toggle between the Campaigns Dashboard and the Detailed Reports for in-depth, real-time data. Users can see data from top-performing website lists to geolocation heat maps to creative performance bar graphs and more. Detailed Reports allows you to export individual data tiles as a PDF, CSV, or PNG. Platform operators are also able to schedule their own reports to be sent via email monthly, weekly, daily, hourly, or by the minute.
Operators can also schedule alerts when a certain value "Is greater than", "Is less than", "Is equal to", " Is greater than or equal to", "Is less than or equal to", "Increases by", "Decreases by" and lastly, "Changes by" an input value. For example, we can schedule an alert to be sent when our win rate is less than or equal to 15%.

Web Insights Reports
Once you have enabled your data package and your Web Insights have begun populating, you can create a PDF and save a report of your Web Insights overview. Saving this will allow you to see the hard counts of the visitors for your favorite data segments. The PDF Report button can be found in the upper right corner of the screen.
This PDF report shows a quick synopsis of the audiences and is a great resource to share with clients or internal marketing strategists! These demographic breakdowns can be used to create Lookalike Modeling audiences in the Data Catalog.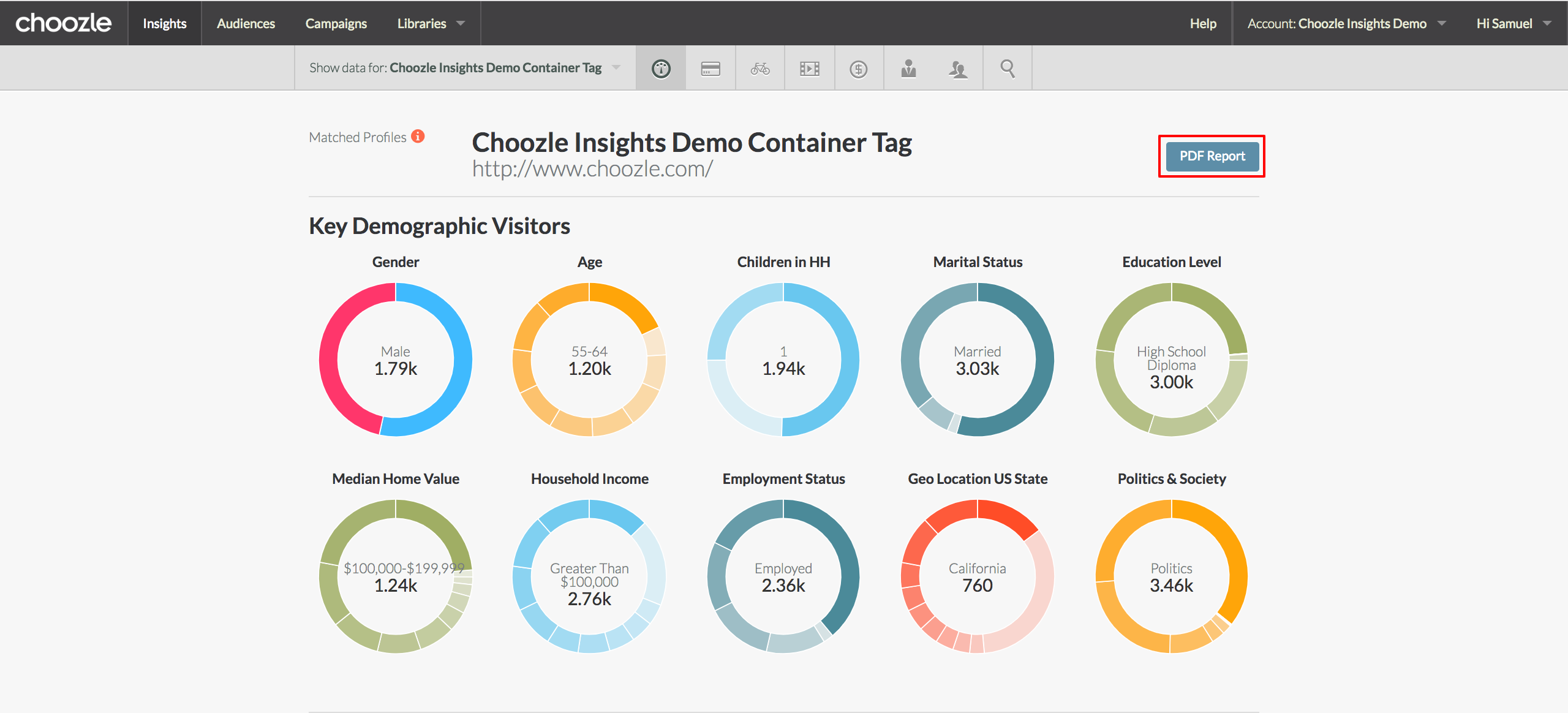 Reading Campaign Dashboards
In addition to the exportable in-platform reports, our campaign dashboards provide a near real-time visualization of your campaign's performance with updated data populating every 30 minutes. Key metrics including spend, impressions, CTR, and CPA can be viewed and cross-referenced. The pacing bars reflect whether or not the campaign is on track to spend the budget in its entirety before the campaign end date, offering insight into when optimizations could be made to improve performance.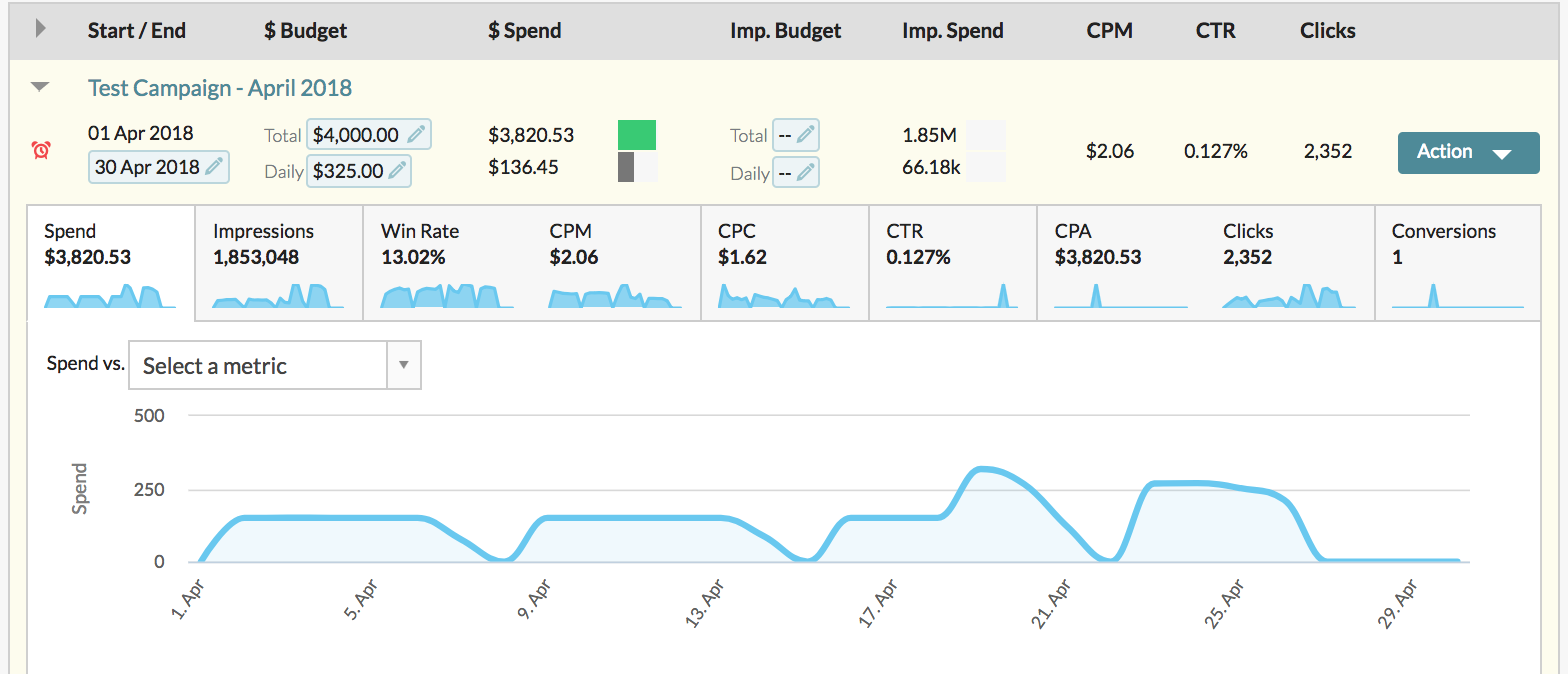 Campaign PDF Reports
After you have launched your campaign you have a few options for downloading reports to show campaign progress or results. At the campaign level, select the drop-down button on the right side of the row and select Campaign PDF Report. This will show the metrics of the campaign and ad group levels for the selected campaign.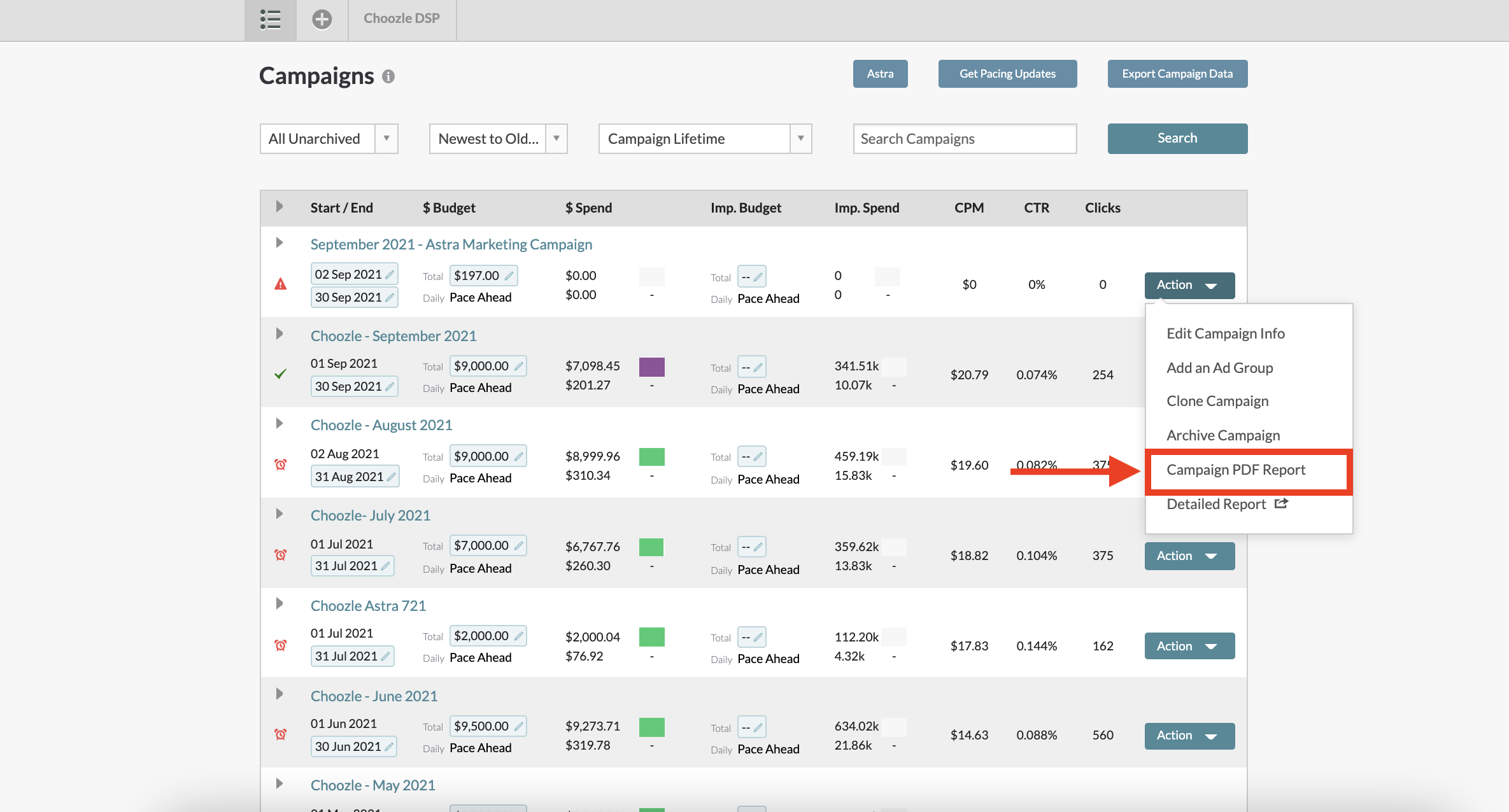 You can print, download or email the report without a margin, OR you can download the report with an adjustment to the values. To apply an adjustment, you can select from two options. Select Margin if you'd like to apply a percentage addition to the campaign, or select Total Budget to have the system evenly distribute the remaining amount of funds across all ad groups to make your total budget reach a certain amount.

You can also download a .csv file which will allow you to create pivot tables to monitor the progress or results of your campaign. You can download a .csv by selecting the blue Export button in the upper right-hand corner of the Campaigns dashboard, where you'll be prompted to select the metrics and campaigns you'd like to export.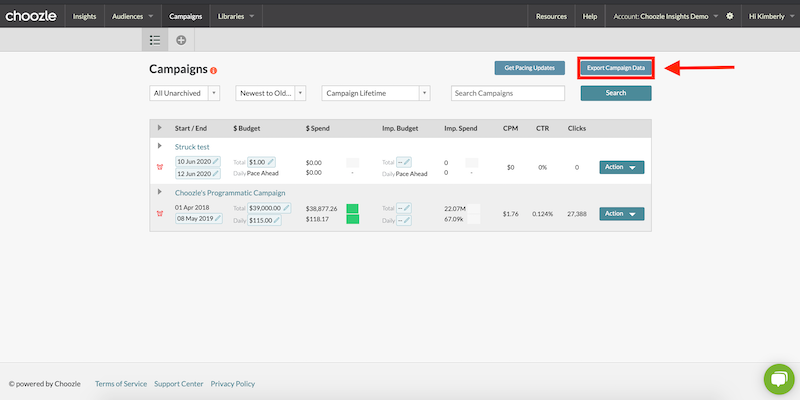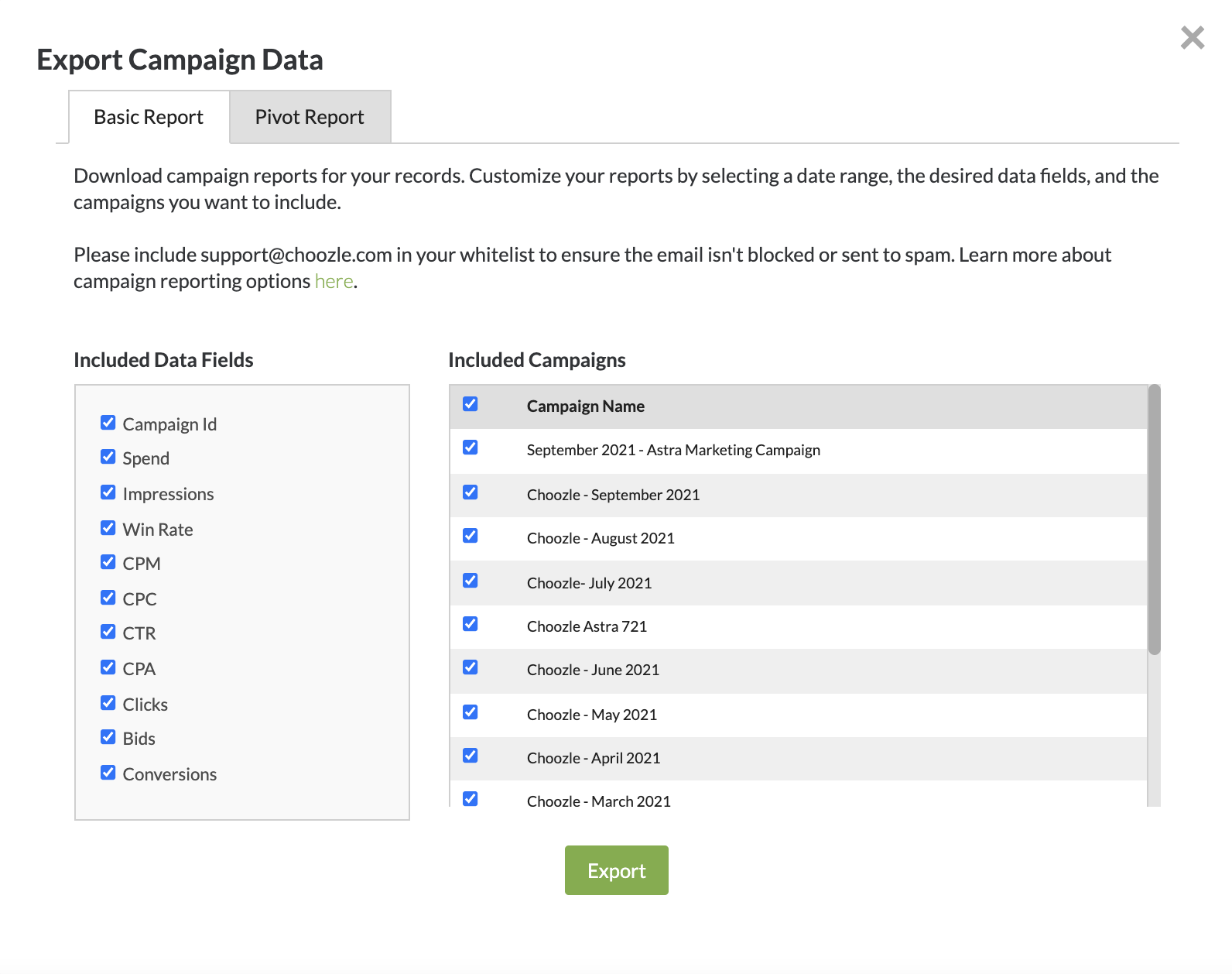 Need even more data? Pivot reports are a pivoted analysis to show in-depth performance metrics based on the ad group, creative, site placement, ad format, contextual category, data segment, pacing, and date. Just select the date range (up to 90-days), and a detailed report will be emailed to you from help@choozle.com.

For an in-depth guide on how to use this report, please see: Optimizing Campaign Performance.
Need conversion-level data? The Growth Account team can also pull conversion reports manually upon request. Conversion reports will show performance for each conversion event that is set up within a campaign. To request one of these reports, please submit a ticket through the Choozle Support Center at help@choozle.com.
API Reporting
Choozle has an API for your campaign reporting data and is available for reporting tools, such as Funnel, AgencyAnalytics, NinjaCat and TapClicks. If you are using TapClicks, you will need to follow these onboarding steps.
If we do not already have an integration set up with your reporting tool, please connect with our team through the Choozle Support Center to make an introduction to your third-party reporting tool contact. From there, we'll introduce our API instructions to your contact and then the responsibility will be on their end to plug into our APIs. We will provide access to our Reporting API Documentation, which can be shared with your reporting tool's development team.
If we have an existing partnership with your reporting tool, please reach out to our team for instructions on how to build the API connection.
My Organization Dashboard
The "My Organization" dashboard will provide a high-level overview of all active campaigns across your advertiser accounts. You can filter the dashboard to see different intervals of data in this dashboard. The dashboard will summarize the number of active campaigns you have across your active advertiser accounts. Please note, it will not provide details on paused or canceled accounts.