GUIDE:
Retargeting
Retargeting is a form of online advertising that can help you keep your brand in front of bounced traffic after they leave your website. For most websites, only two percent of web traffic converts on the first visit. Retargeting is a tool designed to help companies reach the 98 percent of users who don't convert right away.
Retargeting is a powerful branding and conversion optimization tool, but it works best if it's part of a larger digital strategy, in conjunction with inbound and outbound marketing or demand generation.
Strategies involving targeted display are great for driving traffic, but they don't help with conversion optimization.

Conversely, retargeting can help increase conversions, but it can't drive people to your site.
By driving qualified leads to your website from your display campaigns, you are building these retargeting pools, which helps to lower costs and performance metrics in most cases. Therefore, your best chance of success is using one or more tools to drive traffic and retargeting to get the most out of that traffic. More than that, retargeting pools are populated not only by users driven to your site through Choozle. Any user who navigates to your site, organically or through advertisements, will be counted in your retargeting audiences.
Leveraging Retargeting
Once the Choozle Smart Container Tag is placed on your website, an anonymous user profile is dropped every time that a new visitor comes to your site. When your tracked visitors later browse the web, the profile will let the system know when to serve ads, ensuring that your ads are only served to the people who have previously visited your site.
To ensure that data is most up-to-date, retargeting profiles are only valid for up to 90 days, so some churn can be expected with your retargeting pools, but new profiles are also actively being added while the container is still firing. Since you are using your data, there is no CPM data cost associated with this tactic, although the media placement fee will still apply.
Creating a Retargeting Audience
To create a retargeting audience, navigate to the Audiences tool, and select the plus + icon in the sub-navigation bar. This is where all third and first-party data segments live. Navigate to the Retargeting section, which contains data gathered from your site by the Smart Container.
The "Container Tag" segments represent sites added under Manage My Sites.

"Retargeting Tag" segments reflect pools of user-profiles who have engaged with past campaigns.

The Click Retargeting section contains pools of individuals who have engaged with specific creatives.
Once you've decided which segments to include (or to exclude), simply click on each desired segment, opt to include it in (or to exclude it from) the Audience builder, and save your completed audience.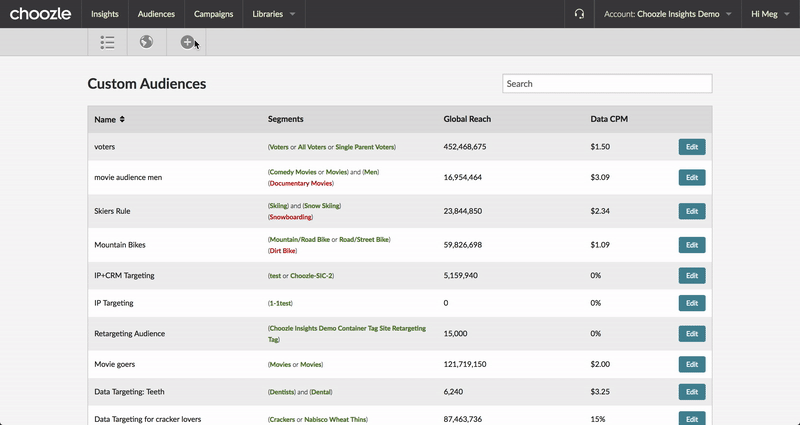 Implementing a Retargeting Campaign
Once your custom audience has been built, navigate to the Campaigns tool to build your retargeting campaign or ad group. From the "Choose your targeting audience" section of your retargeting ad group, select your audience from the Audience Targeting drop-down menu to add it to your ad group.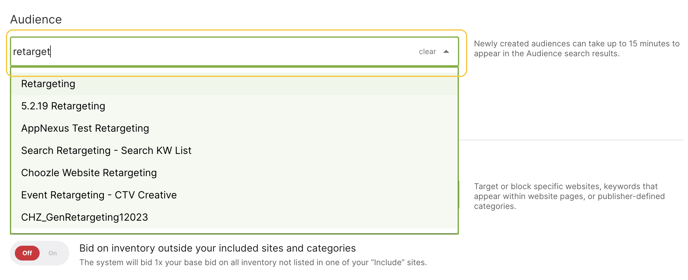 For most retargeting campaigns, the Geolocation Targeting would be the United States to ensure that you allow the system to target anyone across the country who has engaged with your site, your campaigns, or your creatives.
The bid ranges are typically higher since inventory is inherently more limited with retargeting campaigns. Our CPM cheat sheet recommends initial bid range guidelines of $4-7 for display retargeting campaigns, although this could vary depending on targeting constraints.
Retargeting Internationally
In addition to the retargeting pixels made available through Choozle's Smart Container Tag, a special pixel is added to every advertiser account registered with a region type of European Union. The Default pixel is IAB-compliant and will capture the user profile of every customer who provides consent through any IAB-approved consent tool on your brand's website.
The Default pixel is added to your Smart Container Tag by our Platform Operations team for the root URL of your advertiser account, and the audiences of all subsequent pages are collected.
The benefit of selecting the Default pixel when building retargeting audiences is that since user profiles are collected regardless of which tool the customer gives consent to, Default pixel retargeting audiences average 3x the size of other retargeting audiences for the same webpage.
To use the Default pixel, navigate to the Retargeting section of the Audiences Tool and select or search for the data segment named, "Default." Then, select the data segment and add it to the Audience Builder like any other data segment type.