Owner: techops@choozle.com
Updated: 11/29/2023
GUIDE:
Getting Started
There is a bit of a strategy for creative. You will have more common sizes and less common sizes. The more common sizes will have more inventory available, but will also usually require a higher bid than other sizes. Less common sizes will have less ad inventory available but can be won usually at a lower bid. For these reasons, it's smart to have a mix of both common and uncommon sizes! We usually recommend about 3-4 sizes and a couple of variations.
Creative Guidelines
Creative images must be clear, recognizable, and relevant; text appearing in the ad must be legible.
Creative assets must occupy the entire space of the image size you've chosen. A 300x50 ad cannot occupy a 300x250 inventory slot.
Creative assets cannot appear sideways or upside down.
Creative assets cannot be segmented, contain multiple copies of themselves within the ad, or otherwise appear to be more than one ad.
For creative assets with partially black or white backgrounds, you must add a visible border of a contrasting color to the majority background color of the ad.
All creative assets must open a new page on click, cannot open in the same page.
Animated ads are restricted to a maximum of 15 seconds of looping, after which point they must remain static.
Display assets should be no more than 300KB max.
In-banner video creative assets should have no more than a 50KB max file load and a 2MB load for the secondary file.
In-banner video creative assets have no length limit for click to start video ads, but the video should immediately go to the landing page upon completion.
For auto-start video ads, there is a 15-second limit. Audio should not be heard unless initiated by a mouse-over; video should be backstopped by a static 300x250 which should click through to a landing page. (Only applies to embedded in-banner video.)
All in-banner video ads must include the play, pause, mute and unmute controls.
4th-party calls are not allowed.
Ad Formats
The following are supported:
Image files: GIF, JPEG, JPG, PNG, HTML5, MOV, MP4, MP3
3rd Party Ad Tags from approved ad servers (HTML or raw JavaScript)
Rich media is supported with some limitations, please speak to the Choozle Client Success team if you intend to run rich media.
Display Specifications
Display ad files can be:
Maximum Expanded Dimensions
(WxH in pixels)

Max Initial File Load Size

Subsequent user-initiated file load

Max Video & Animation Frame rate

Z-index Range


Max Percentage of CPU Usage



Maximum Animation Length

(i.e. Flash™)

Expansion not allowed for this unit
150 KB
5 KB
24 fps
0 - 4,999


0.2


15-sec
Top Performing Display Sizes:
160x600 (Wide Skyscraper)
300x250 (Medium Rectangle)
728x90 (Leaderboard)
300x600 (Half Page Ad)
Other Accepted Display Sizes:
88x31 Micro Bar
120x60 Button
2120x90 Button
120x240 Vertical Banner
120x600 Skyscraper
125x83 Button
125x125 Square Button
180x150 Rectangle
180x500 Custom
226x850 Custom
230x230 Square
230x600 Custom
234x60 Half Banner
240x400 Vertical Rectangle
250x250 Square Pop-Up
250x360 Custom
300x100 3:1 Rectangle
300x60
300x240 Custom
300x1050 Custom
320x80 Mobile
320x160 Mobile
320x240 Custom
320x250 Custom
320x320 Mobile
320x480 Custom
400x400 Custom
440x220 Custom
450x250 Custom
468x400 Custom
468x60 Full Banner
480x80 Custom
480x250 Custom
480x280 Custom
480x320 Custom
519x225 Custom
544x225 Custom
551x289 Large Banner
555x111 Letvertise Custom
555x333 Letvertise Custom
600x75 Banner
640x480 Custom
720x300 Pop-Under
720x480 Custom
750x200 Custom
800x250 Custom
930x180 Custom
960x60 Custom
960x325 Huge Banner
970x66 Custom
970x90 Custom
970x250 Custom
970x550 Custom
975x300 Custom
980x90 Custom
980x120 Custom
980x150 Custom
980x240 Custom
980x250 Custom
994x250 Custom
980x400 Custom
1000x90 Custom
1020x250 Custom


Video Specifications


Video Dimensions:
480x360
1400x1050
1280x720
640x480
1440x1080
1600x900
800x600
640x360
1920x1080
960x720
640x268
1920x800
1024x768
960x540
1280x960

1280x532
Top Performing Video Sizes:
640x480
480x360
640x360
1920x1080
HTML Specifications
HTML5 Assets
Accepted File Types
A ZIP file containing the HTML ad. The file may also contain CSS, JS, HTML, GIF, PNG, JPG, JPEG, or SVG.
Accepted Ad Formats
See list (same as display).
Ad Length
Animated ads can loop for 15 seconds before becoming static.
Asset Requirements
An HTML5 asset should have a clear, recognizable, and relevant image that contains readable test and fits the selected image size. The asset can't appear sideways or upside down or appear to be more than one ad. In addition, assets with partially black or white backgrounds should have a visible border or a contrasting color.
Max File Size
300KB
Other notes

ZIP files can't contain nested folders. In addition, when embedding an in-banner video in an HTML5 asset, the first onload should be a maximum of 50KB and the second onload 2MB.

HTML5 assets cannot be expandable.

First-party Hosted Video Specifications
The following creative sizes are allowed, in .MP4, .FLV, .WEBM, .MOV, .MPG, .MPEG format:
Ad Formats
Aspect Ratio
RecommendedSize
Min Size
16:9 (Recommended)
1920x1080
640x360
4:3
640x480
480x360
Video files can be a maximum of 200 MB. Video ads can run 15, 30, or 60-second increments (we allow up to 300 seconds). Most inventory is likely to be available for 15- and 30-second ads.
Skippable: Select "skippable" to allow the video ad to be optionally skippable by the viewer.
Companion Creatives: Choose existing display creatives to be associated as a companion to the video creative and upload them in the "Companion Creatives" section of the video upload to the Creative Library. Companion creatives are limited to the following file types; JPG,GIF, PNG and sizes: 300x250, 728x90, 320x50, 160x600, 300x600, 300x50, 320x480, 468x60, 970x250.
Under the advanced settings of your video ad group, you can choose to include or exclude in-banner video placements. Please note that you must have a minimum base bid of $6 to run video campaigns.
Third-Party Ad Tags(VAST and VPAID)
If you are using a third-party ad server, Choozle supports these VAST specifications:
| Video Creative Type | Supported? |
| --- | --- |
| VAST 2.0 | Yes |
| VAST 2.0 with VPAID 1.0 Flash | Yes |
| VAST 2.0 with VPAID 2.0 JS | Yes |
| VAST 3.0 | No |
Choozle supports the following media types: MP4, FLV, VPAID 1.0, VPAID 2.0 Flash, VPAID 2.0 JS in 3rd party VAST.
When uploading third-party VAST, we recommend including MP4, WEBM, and FLV media assets, in addition to any VPAID assets. This provides access to the greatest video inventory scale, as publishers and video players in different environments (desktop, mobile web, and in-app) require specific video media types to render the video ad.
If your third-party VAST only contains a VPAID 1.0 media asset, please note that scale will be limited to bid requests that support VPAID 1.0. Currently, mobile web and in-app environments do not support VPAID 1.0 flash assets, so reach would be limited to desktop video inventory.
This table summarizes supported media types across various inventory types:

*VPAID support varies by the publisher (site) and by sell-side platform (SSP). Not all video bid requests support VPAID assets.
If you are using a Moat-wrapped video viewability tag, please reach out to the Choozle Support Center.
Under the advanced settings of your video ad group, you can choose to include or exclude in-banner video placements. Please note that you must have a minimum base bid of $6 to run video campaigns. IAB Standard link.



Mobile Specifications
Mobile ad files can be:
Maximum Expanded Dimensions

(WxH in pixels)

Max Initial File Load Size
Subsequent user initiated file load
Max Video & Animation Frame rate

Z-index Range

Max Percentage of CPU Usage

Maximum Animation Length (i.e. Flash™)

Expansion not allowed for this unit
150 KB
Not allowed for this unit
Not allowed for this unit
0 - 4,999


Changing connectivity speeds and device variability affect how ad display is processed.
Please see Best Practices below for more information.

15-sec
Top Performing Mobile Sizes:
300x50 (Mobile Leaderboard)
320x50 (Mobile Leaderboard)
336x280 (Large Rectangle)
1024x768 (Tablet Interstitial Landscape)
768x1024 (Tablet Interstitial Portrait)
Native Specifications
The 1.91:1 aspect ratio with dimensions of 1200x627 is the most common size.
Supply-Side Provider
Sizes Accepted
In-App Inventory
Viewability/Brand Safety
Third-Party UTM Tracking
Third-Party Javascript Tracking
AdScale
1.91:1 (1200x627)
AdX
1.91:1 (1200x627)
Yes
N/A
Yes
No
AdYouLike
1.91:1 (1200x627)
No
Viewability (IAS/Moat)
Yes
Yes
AppNexus
1.91:1 (1200x627)
Yes
N/A
Yes
Yes
Beanstock
1.91:1 (1200x627)
Ligatus
1.77:1 (1920x1080, 1280x720, 1024x576)
1.91:1 (1200x627)
MoPub
1.91:1 (1200x627)
Yes
N/A
Yes
No
Nativo
1.91:1 (1200x627)
Yes
Viewability (IAS/Moat)
Yes
Yes
Outbrain
1.5:1 (2000x1333, 1600x1067, 1200x800, 1024x683, 900x600);
1.91:1 (1200x627)
Pubmatic
1.91:1 (1200x627)
Yes
N/A
Yes
Yes
Sharethrough
1.33:1 (1000x750), 1.91:1 (1200x627)
Yes
Viewability (IAS/Moat)
Yes
Yes
Smaato
1:1 (1800x1800, 1200x1200, 600x600);
1.91:1 (1200x627)
Taboola
1.91:1 (1200x627)
No
N/A
Yes
No
TripleLift
1:1 (1800x1800, 1200x1200, 600x600);
1.91:1 (1200x627)
Yes
Viewability (IAS/Moat)
Yes
Yes
YieldMo
1:1 (1800x1800, 1200x1200, 600x600), 1.91:1 (1200x627)
No
Viewability (IAS/Moat)
Yes
Yes
Please note that native assets files must be in either .jpg or .png file type.

Native Dimensions
1200x627 Custom
2000x1333 Custom
1920x1080 Custom
1800x1800 Custom
1600x1067 Custom
1280x720 Custom
1200x1200 Custom
1200x800 Custom
1024x576 Custom
600x600 Custom
1024x683 Custom
1000x750 Custom
900x600 Custom
Audio Specifications


Fifteen and 30-second audio ads are the most common ad lengths in audio advertising. However, with a 15-second ad, you can bid on inventory placements that are 15, 30, and 60-seconds long.
Accepted audio file formats include MP3. The suggested bitrate is 160 KBPS
Non-skippable ads are played in brand-safe environments on mobile (in-app, web, and optimized web), desktop, tablet, and connected TV devices.
Some publishers allow for companion banners to show during the audio ads. Supported sizes for audio companion banners (when offered by a publisher) are listed in the following table. The delivery of companion banners is not guaranteed but will be supplied to the SSP and publisher when bidding.
| | | | | | | | |
| --- | --- | --- | --- | --- | --- | --- | --- |
| | 300x250 | 728x90 | 300x50 | 300x600 | 320x50 | 500x500 | 640x640 |
| Triton Digital | ✓ | ✓ | ✓ | | ✓ | | |
| Adswizz | ✓ | | | | | | |
| Spotify | ✓ | | | | | | ✓ |
| TargetSpot | ✓ | | | | | | |

Connected TV Specifications
Connected TV devices have large screen sizes and support high-definition video creative formats. The large screen size and relation to other highly-produced content should be kept in mind when determining the video creative used in a connected TV campaign. The following specifications are recommended: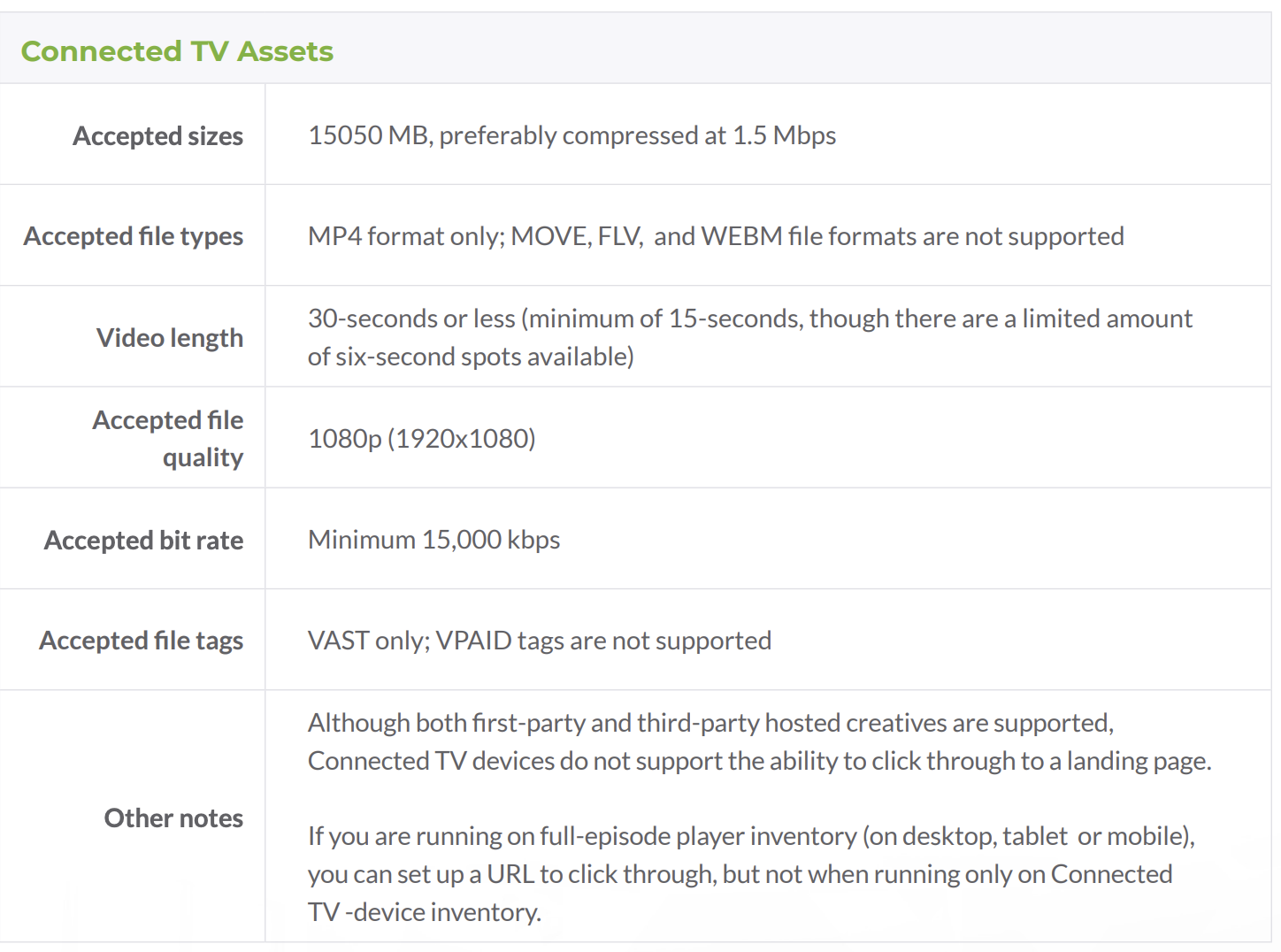 iAd Specifications
In order to achieve a successful campaign, please submit your creatives according to the following iAd creative specifications. These specifications ensure the best user experience on Apple devices.
iAd requires the submission of creative sizes compatible with each Apple device-type listed below. Specs for each device are included for both portrait and landscape orientation.
DEVICE
PORTRAIT ORIENTATION
LANDSCAPE ORIENTATION
MAX FILE SIZE*
iPhone 4s and earlier
iPod touch 4th generation and earlier
640 W x 100 H pixels
960 W x 64 H pixels
iPhone 5s
iPhone 5c
iPhone 5
iPod touch 5th generation
640 W x 100 H pixels
1136 W x 64 H pixels
iPhone 6
640 W x 100 H pixels
1136 W x 64 H pixels
iPhone 6 Plus
1242 W x 150 H pixels
2208 W x 96 H pixels
iPad Air
iPad (retina display)
iPad 2
iPad mini
iPad mini (retina display)
1536 W x 132 H pixels
2048 W x 132 H pixels
*Per file, at 72 DPI
Creative Guideline for Banners, Full-Page and MREC ads
Static JPEG, PNG, GIF, and animated GIF files are accepted. Animations can only loop three times, and may not exceed 15 seconds.
Banner, full-page, and MREC creative must adhere to iAd's Content Guidelines.
Use only App Store and iTunes badges provided by Apple. Don't reference your app's rating or ranking in an ad.
Only iOS devices may be shown in an ad. Don't obscure, crop, distort, or cut off parts of apple products.
Banner ads must include a destination. An iTunes destination requires an iTunes Link. A web site destination requires a URL (Mobile-optimized site recommended). A video destination requires that you upload a video file following the Video Asset specifications outlined.
Google Android In-app Specifications
Clients of Choozle purchasing inventory in mobile applications ("in-app inventory") and on mobile web content should follow the details of the technical specifications below:
DEVICE (ANDROID OR IOS ONLY)
UNIT SIZES
TAG TYPES
FILE TYPES
STATIC IMAGE MAX FILE SIZE
ANIMATED IMAGE MAX FILE SIZE
Smartphone
320x50 300x250 Interstitial
Image tag wrapped in the anchor tag


JavaScript tag (beta) MRAID (beta)
JPEG PNG GIF (static only)
40 KB
N/A (animated images are not supported)
Tablet
300x250 728x90 468x60 Interstitial
Image tag wrapped in the anchor tag
JPEG PNG GIF (static only)
150KB (2.2MB polite download)
150KB (2.2MB polite download)