Choozle offers a variety of different support options, from Choozle Academy to our Support Center to webinars and office hours with our support team.
GUIDE:
Choozle Academy
Choozle Academy provides a great 45-minute overview of the platform and will give you a strong foundation of its functionality. We strongly recommend completing Choozle Academy prior to the setup call in order to maximize the amount of time available on the call to discuss campaign strategy.
To access Choozle Academy:
Hover over Hi [Name] in the top right corner of your screen and select Choozle Academy in the drop-down menu.

Scroll down to view all available courses.
There, you can start on Choozle 101 and work your way through the Basics of Programmatic and your Pre-launch Check List.
Support Center and Knowledge Base
For ongoing education after Choozle Academy and your campaign setup call, the Choozle Knowledge Base contains a wealth of information, from self-serve solutions and webinars to the option to open a ticket to connect with a member of our Support Center team.
To access the Choozle Knowledge Base:
Click on the Help button on the top right corner of the page.
From the subsequent page, search for solutions based on topic or click the Open a Ticket tab to submit a ticket with our Support Center team.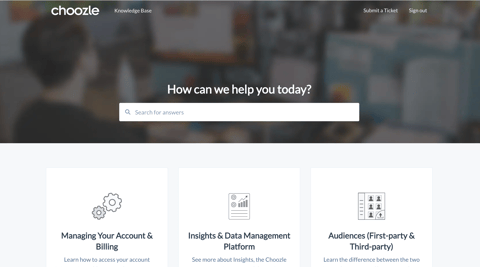 Optimization Call
Do you have a challenging question(s) that you'd rather chat through face-to-face than through the Choozle Support Center? Optimization calls allow you to schedule a 30-minute call to connect with a member of our Support Center team through a virtual meeting room. They are available on a first-come, first-served basis and can be scheduled up to a month in advance. Please reach out to the team at help@choozle.com with the details of your request and a member of our team will reply with a Calendly link that you can utilize to schedule. Our team requires clients to compose notes/questions to send prior to the meeting so that we can provide you all the relevant information and make the most out of the available time.