GUIDE:

Getting Started
The Web Insights tool in the Choozle platform acts as an aggregator for demographic and psychographic data points and allows you to view data trends of the profiles matched from web traffic.
Once collected, user profiles from your website visitors are matched with user pools collected from our data partners. The profiles are aggregated to show results for more than 120 unique demographic, psychographic, consumer purchase, lifestyle and behavior characteristic modules in North America.
These characteristics can be viewed by browsing or searching and include:
Demographics
Purchase Behaviors
Lifestyle Segmentation
Media Consumption
Financials and Predictors
B2B
Presented in a visually appealing interface via the platform, all insights are anonymous and aggregated, thus completely privacy compliant. For more information, please view our Privacy Policy.
Data collection will begin immediately upon proper implementation of the Choozle Smart Container Tag. Initial data should be available for review 4 to 7 days after the date the Smart Container Tag has been placed, contingent on web traffic volume. We recommend reviewing these data points after the Smart Container Tag has been placed for one week. With the Smart Container placed and desired pages added with Insights enabled under Manage My Sites, profiles begin to collect. Those cookie profiles are matched based on hundreds of data points and are then aggregated and anonymously placed into the charts in Insights, where they visualize. The data is on a rolling 30-day lookback window, and there is no historical data, so it is recommended that users export reports every month if they want historical data.
If you do not see any data within 4 to 7 days, there may be an issue with the Smart Container Tag placement, in which case we suggest you submit a support ticket. If you use Google Tag Manager or you need assistance implementing the Smart Container Tag please submit a support ticket.
You can select your favorite data points and build a custom dashboard to monitor your website traffic, or browse or search among multiple data categories to find new potential audiences for your web traffic. Favorite up to 20 charts by staring them, which will move them to the main Insights page and make them printable on the PDF reports. Segments' reaches show the actual count of site visitors who fall into a segment, while the potential reaches show the potential reach of a corresponding data segment from the data catalog, showing by how much an audience could be extended.
Please note that Web Insights is currently ONLY available in the following countries: the United States and Canada.
Use Cases, Applications, and Benefits
A publisher who serves clients' ads to their own retargeting audience leverages Insights to show prospects and clients the quality and characteristics of their site visitors, who become the target audience for the prospects' or clients' campaigns.
A public health initiative enabled Insights to understand what types of people were engaging in the content and to make sure that they were reaching their intended audiences.
A cruise line used Insights to inform a lookalike audience off of call and quote requesters.
Access hundreds of behavioral and demographic behavioral points about your site traffic to gain a deeper understanding and a more holistic picture of who they are.
Segment Insights for different pages or sections of your website to see how visitors to those different pages or sections are unique, for more accurate targeting to those specific users.
Leverage Insights to inform a lookalike audience based on your site traffic.
Available Web Insights Data
General

Purchase Behaviors


Lifestyle

Gender
Age Children in HH
Marital Status
Education Level
Median Home Value
Household Income
Employment Status
Geo Location US State
Politics & Society
Age Brackets
Age Lifestages
Education
Children in Household
Age of Children in Household
Gender of Children in Household
Number of Children in Household
Family Composition
Family Position
Household Size
Housing Attributes
Length of Residence
Property Type
Language
Military Status

Autos - Classes
Autos - Condition
Auto Makes
Auto Models In-Market
Consumer Packaged Goods (CPG)
In-Market Health & Beauty
In-Market Household Supplies
In-Market Education
In-Market Education Types
In-Market Education Level
In-Market Other Vehicles
In-Market Real Estate
In-Market Automotive
In-Market Babies & Kids
In-Market Business & Office
In-Market Cell Phones & Plans
In-Market Cell Phone Providers
In-Market Clothing, Shoes & Accessories
In-Market Clothing Category
In-Market Clothing Type
In-Market Footwear Category
In-Market Footwear Type
In-Market Jewelry & Watches Category
In-Market Computers
In-Market Computer Software
In-Market Electronics
In-Market Entertainment
In-Market Hobbies, Games & Toys
In-Market Home & Garden
In-Market Home & Indoors
In-Market Home & Outdoors
In-Market Sports Equipment & Outdoor Gear
In-Market Video Games
In-Market Services
In-Market Restaurants
In-Market Travel Advanced Booking
In-Market Travel Classes
In-Market Travel Days of Departure
In-Market Travel Departure Locations
In-Market Travel Destination Locations
In-Market Travel Length of Trip
In-Market Travel Number of Adults
In-Market Travel Trip Type
In-Market Car Rentals Length of Rental
In-Market Hotel Advanced Booking
In-Market Hotel By Number of Adults
In-Market Hotel By Length of Stay
In-Market Hotel By Location
In-Market Hotel By Types
In-Market Hotel By Number of Rooms
In-Market Hotel By Star Ratings
Past Purchases Auto Classes
Past Purchases Auto Makes
Past Purchases Baby Care
Past Purchases Baby Care Brands
Past Purchases Food & Beverages Brands
Past Purchases Health & Beauty Brands
Past Purchases Household Supplies Brands
Past Purchases Pet Supply Brands
Past Purchases Food & Beverages
Past Purchases Special Types
Past Purchases Health & Beauty
Past Purchases Household Supplies
Past Purchases Pet Supplies
Education
Insurance
Loans
Retirement & Investing
Other Vehicles
Auto Parts
Babies & Kids
Business
Cell Phones Providers
Clothing, Shoes & Accessories
Computers
Electronics
Activity & Event
Tickets
Books & Magazines
Entertainment
Hobbies, Games & Toys
Home & Garden
Home & Garden Indoors
Home & Garden Outdoors
Sports Equipment & Outdoor Gear
Video Games
Services
Restaurants
Travel Locations
Travel Products
Travel Types
Predictors Auto Classes
Predictors Auto Condition
Predictors Auto Makes
Predictors Retail
Predictors Travel Type
Predictors Travel by Departure Locations
Predictors Air Travel by Type

Categories
Animals
Events & Attractions
Arts & Entertainment
Film & Media Consumption
Music
Pop Culture
Reading
Auto Enthusiasts
Auto Classes
Auto Condition
Auto Models
Auto Makes
Business & Finance
Education
Food & Drink
Restaurants
Health, Beauty & Style
Hobbies, Games & Toys
Home & Garden
Internet & Online Activities
News & Current Events
Other Vehicles
Parenting & Family
Charities & Non-Profits
Politics & Society
Science & Humanities
Shopping
Recreation
Sports
Travel Departure Locations
Travel Destination Locations
Travel Products
Travel Types
Video Game Genres
Video Game Platforms
Media Consumption

Financial

B2B

Browser Type
Operating System By Language
Operating System by Type
Device Type
Internet Service Provider (ISP)
Connection Type
Internet Service Provider (ISP) Network
Television Genres
Television Channels
Television Shows
Audio & Visual Computer Brands
Cell Phones & Plans
Cell Phones Providers Computers

Financial Attributes
Estimated Household
Income
Estimated Net Worth
Estimated Number of Housing Investments Owned
Financial Products & Services
Used Financial Products & Services
Personal Finance Services
Credit Cards Types

B2B Events
Classes
Company Age
Company Past Purchases - Technology
Company Size
Employment Status Groups
Decision Makers
Industries & Occupations
Agriculture & Natural Resources
Occupations Arts, Entertainment & Media
Occupations Building & Grounds Maintenance
Occupations Business & Finance
Occupations Community & Social Services
Occupations Computer & Mathematical
Occupations Construction & Architecture
Occupations Education
Occupations Government
Occupations Health Care
Occupations Hospitality & Food Services
Occupations Legal
Occupations Office Administration & Support
Occupations Personal & Consumer Services
Occupations Production & Manufacturing
Occupations Sales Occupations Science & Engineering
Occupations Telecommunications
Occupations Transportation & Logistics
Occupations Utilities
Occupations Roles Sales Volume
Organizing Your Web Insights
Insights will show a cross-device view of your website traffic in a single, aggregated view. If you want to view a cross section for a particular site simply select the Show Data option in drop-down menu: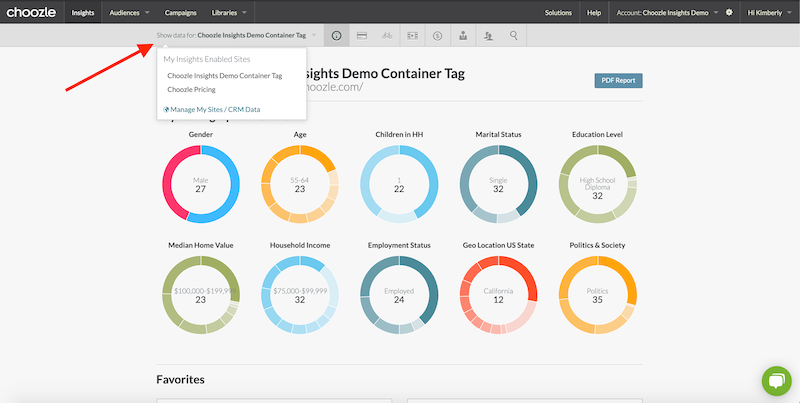 You do have options to further sort the data in Web Insights. You can utilize the Manage My Sites feature to get a more granular view of your website's insights. By adding additional sites to Manage My Sites, the operator will have the ability to see the insights of different pages (i.e., your homepage, your shopping cart, and the completed transaction pages).

If a site is enabled, you will be able to see how the demographics, purchase behaviors, and other characteristics of that website traffic change based on the different pages of user pools on your website (e.g., how all of your website traffic compare to people who reach a checkout confirmation page).


You can also use the pools of user profiles created by this taxonomy of your website traffic as layers to your custom audiences, just as you would build a retargeting audience (i.e., you can retarget to anyone who came to your website but "exclude" individuals who reached the checkout page of your website).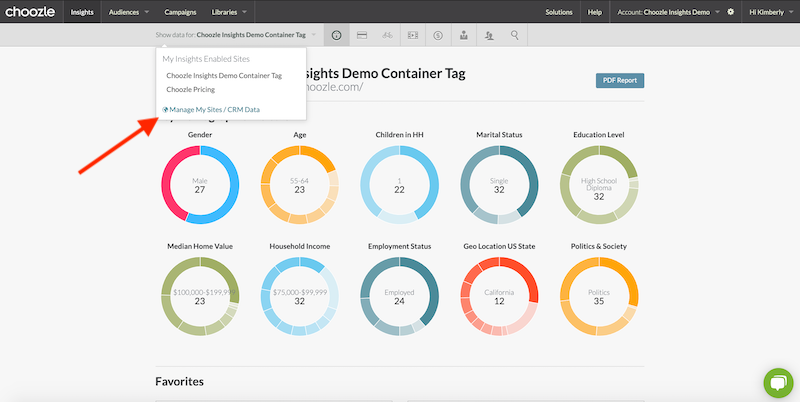 Web Insights Reporting
Once your insights have begun populating, you can create a PDF and save a report of your Web Insights overview. Saving this will allow you to see the hard counts of the visitors of your favorited data segments. The PDF Report button can be found in the upper right corner of the screen.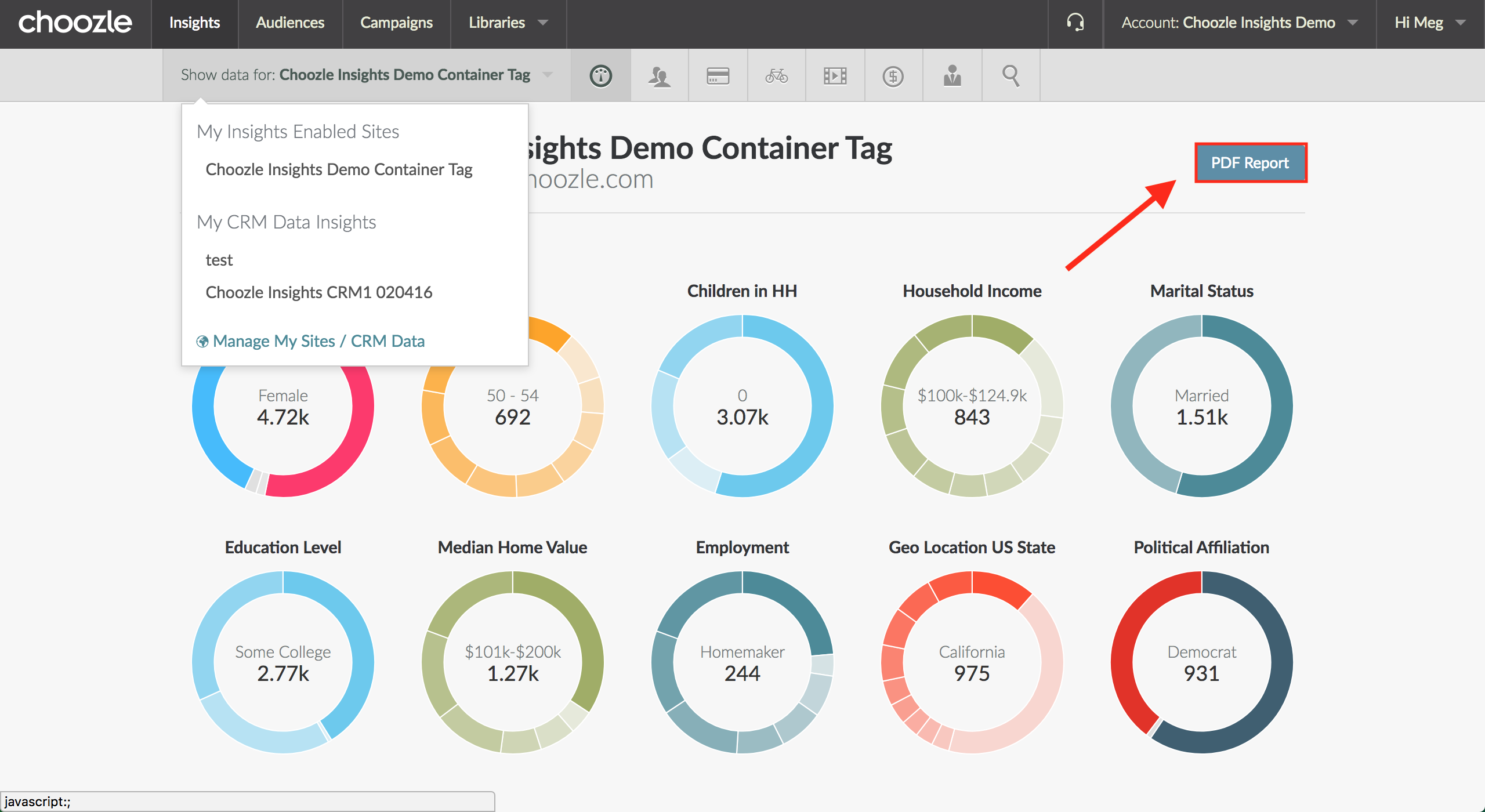 Additional Features

Selecting Favorites
Click the star on any of the category charts to "favorite" the chart. Favorited charts will appear here on your Overview page.