GUIDE:
Getting Started
Campaigns and ad groups are set to run 24 hours a day, seven days a week. By adjusting the scheduling settings in Choozle you to target users based on their defined timezones. This is an advanced setting that can be useful in situations where you want to maximize spending during specified preferred hours based on the users you are targeting. For example, if you wanted to target users during the lunch hour or reach users only during the week while they are at work.
Choozle's dayparting functionality allows you to customize the days or hours during which you want your Campaigns and ad groups to run by whitelisting or blacklisting certain time frames or by adding a bid multiplier to increase or decrease your bids during a given time range.
Implementing Dayparting
1. From your Campaigns dashboard, click the blue ad group-level Action button > Edit Ad Group to be taken to the Edit Ad Group screen.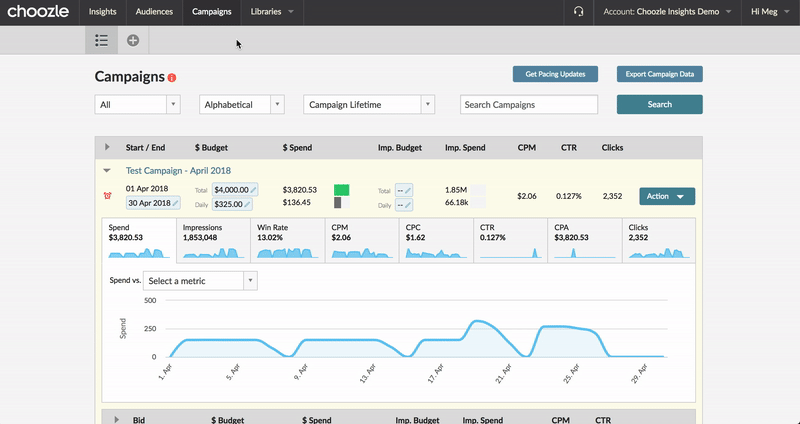 2. From the Edit Ad Group screen, scroll to the bottom to find Advanced Settings and select Scheduling.

3. Select the times during which you do want your ad group to run based on where the user Is located.
Please note that all times not listed will be automatically blacklisted, meaning that the ad group will not serve at any time outside of what is selected based on the location of the impression.
All Scheduling and Dayparting is based on the timezone of where the impression is served. For example, if you are targeting all the of the United States but exclude serving between 6 pm and 9 pm. All bidding will stop at 6 pm in each timezone - 6 pm PT, 6 pm MT, 6 pm CT, and 6 pm CT.
For example, take a look at this setup:
The system would bid in the following fashion:

With a bid multiplier of 0.5 between 6:00 a.m. and noon, the system would bid half of the base bid during those hours.
With a bid multiplier of 1 between noon and 4:00 a.m., the system would bid the normal base bid during those hours.
With a bid multiplier of 1.5 between 4:00 p.m. and 8:00 p.m., the system would bid 1.5 times the base bid during those hours.
The system would not bid at any other times (i.e., between 8:00 p.m. and 6:00 a.m.).
If you have any questions about how to implement a given schedule in your campaign, please reach out to our Client Experience team via the Choozle Support Center, and we will be happy to check your campaign setup to confirm that it will run at the desired schedule.
Recency Tool
The Recency tool offers the option of adjusting your bid based on how recently someone has visited your site, or when their user profiles were collected.
For example, if a customer is most valuable in the first five days after visiting your site and then not valuable at all after 30 days; you can adjust your ad group bid to say, 5x your base bid for the first five days and then reduce to 0 after 30 days to effectively not bid after 30 days when their value expires.