Guide:
Getting Started
Choozle provides a unique Smart Container Tag upon each account creation to enable retargeting, conversion tracking, as well as Web Insights tracking if the account has a Data Package enabled.
Once the Smart Container Tag is placed on your website, the Smart Container Tag will seamlessly and immediately begin to securely gather user profiles from your website visitors. For instructions on how to place the Smart Container Tag on your website, click here.
Choozle's Smart Container Tag facilitates creating segmentations within your website for retargeting and Web Insights purposes. A great feature of Web Insights is the ability to select which sites you want to include or exclude.
Even if Web Insights are disabled for a particular site, you can still leverage these segmentations to retarget or exclude users who have specific pages of your site.
Creating Segmentations
If there are additional URLs for your brand beyond the one provided at sign up, or segmentations of your site for which you'd like to create individual retargeting pools, you can add those by navigating to Audiences > Manage My Sites.
Once in Manage My Sites, click the green button, Add a Site.


In the modal that pops up, you can include any additional URLs that you would like to have tracked for your brand.
For example, choozle.com/checkout or choozle.com/thankyou.

At this point, you will have the option to enable Insights for this specific webpage for $200 a month. For more information, please see our support article on Managing Your Data Package .
4. Please make sure to have the Smart Container Tag placed on each of the root URLs listed on this page.
For example, if https://choozle.com is listed as a site and https://choozle.com/pricing is added, the Smart Container Tag only needs to be placed on the former, since the root URLs are the same.
Alternatively, if https://choozle.com is the existing site and https://blog.choozle.com is added, the Smart Container Tag would need to be placed on both sites, since the root URLs are different. Please reach out to the Client Engagement team via the Choozle Support Center if using a setup like this with subdomains, as there is a manual tweak that is required on our end to facilitate accurate tracking.
5. Once the additional URL(s) are added, you will have a new Smart Container Tag retargeting audience populated automatically for each URL within an hour. These new tags can be found in the Audiences Tab > Create a Custom Audience.
If you have a Data Package subscription and opt to enable Web Insights on the given site, you will also have a visualization of the characteristics of the audience of these pages in your Insights menu.


6. To retarget users who have accessed a particular URL, complete these steps and add the newly populated Smart Container Tag group for that URL to a custom audience.
Do this by clicking on the Container Tag data group under the Audiences tab, and selecting Include.
Alternatively, to target users who have visited some URLs but not others, include the data groups with the desired URLs and exclude others.
7. Click Save on the Audience Builder and name your new custom audience.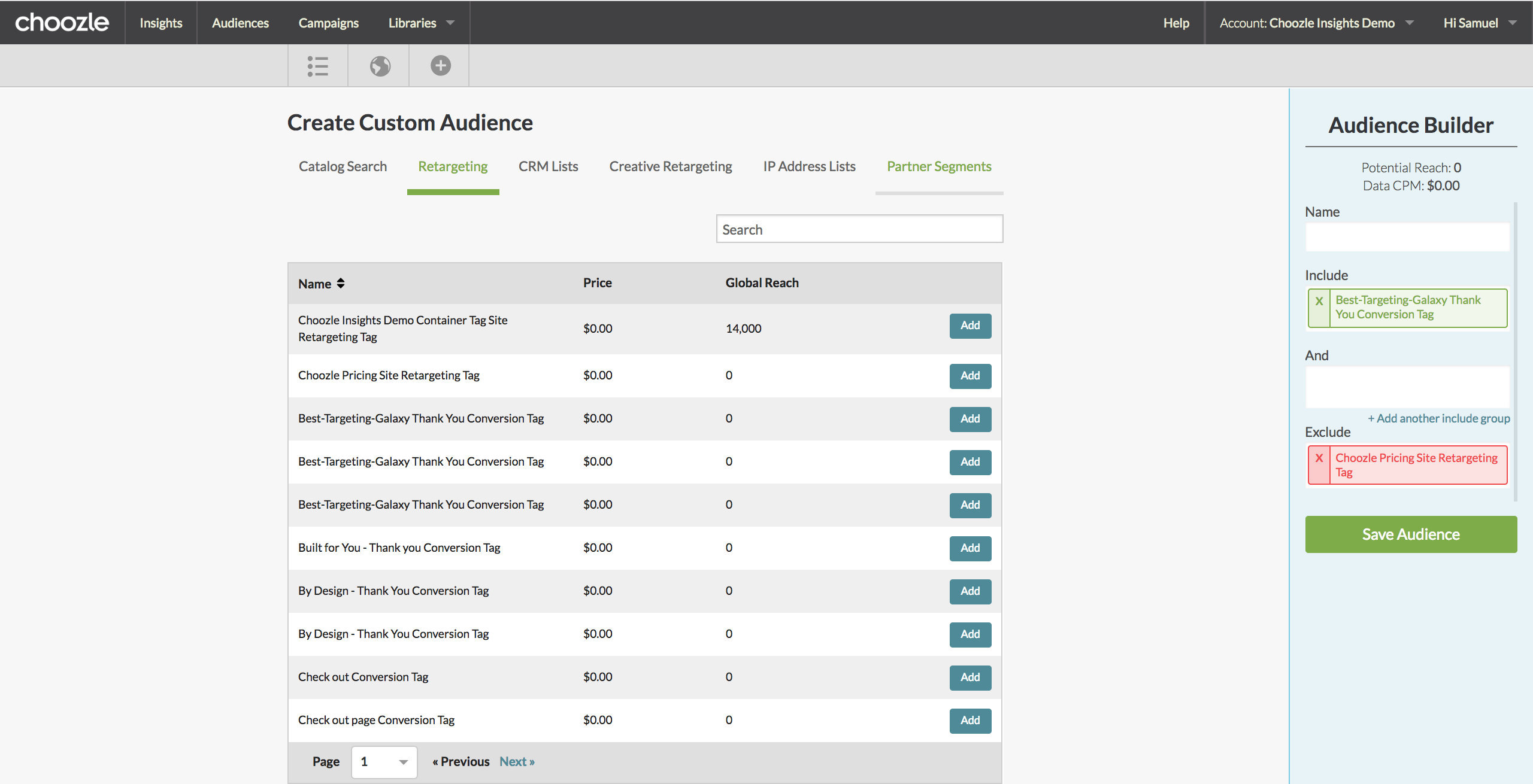 8. Navigate to the Campaigns tool, and create a new ad group with your custom audience enabled. For more information on creating ad groups, click here.
Please note:
International customers familiar with the Default pixel made available to advertiser accounts with a region type of European Union, which collects user profiles which gives consent to any IAB-approved consent tool. The Default pixel and the data segment produced are only for the root URL of the advertiser account. Any subpages added in Manage My Sites / CRM, will not have retargeting pixels generated using the default pixel type.