GUIDE:
Getting Started
Choozle has several different types of receipts available, including automatic email receipts for any credit card transactions at the user-level, as well as PDF receipts of media spend at the account-level. If you are looking for transaction-based receipts for your records or accounting teams, you will need to reach out to the Support Center and a member of the Media Coordinator team can pull that for you upon request.
Email Receipts
Email receipts are sent by default to the account creator, but non-creators can also opt to receive email receipts. Receipts are sent at the beginning of each month for account subscription fees, and immediately upon campaign fund refills and upon data package enablement (where applicable). To opt-in to email receipts, take the following steps:
Hover over your name in the top right corner of your screen and select My User Info in the drop-down menu.


From the light gray sub-navigation bar, select the Email Notification Settings icon.


Within the Edit Email Notification Settings tab, check the box for Credit Card Transactions and select the frequency at which you'd like to receive the emails.


Click Update.
PDF Media Spend Receipts
To view or print a PDF receipt of a given account's media spend funds, select the blue Settings button next to the account name from the dashboard.

This will take you to your account settings. From this page, select the credit card icon in the navigation bar to reach your Transactions and Balances. You can then select your desired date range and print a PDF report of your expenses.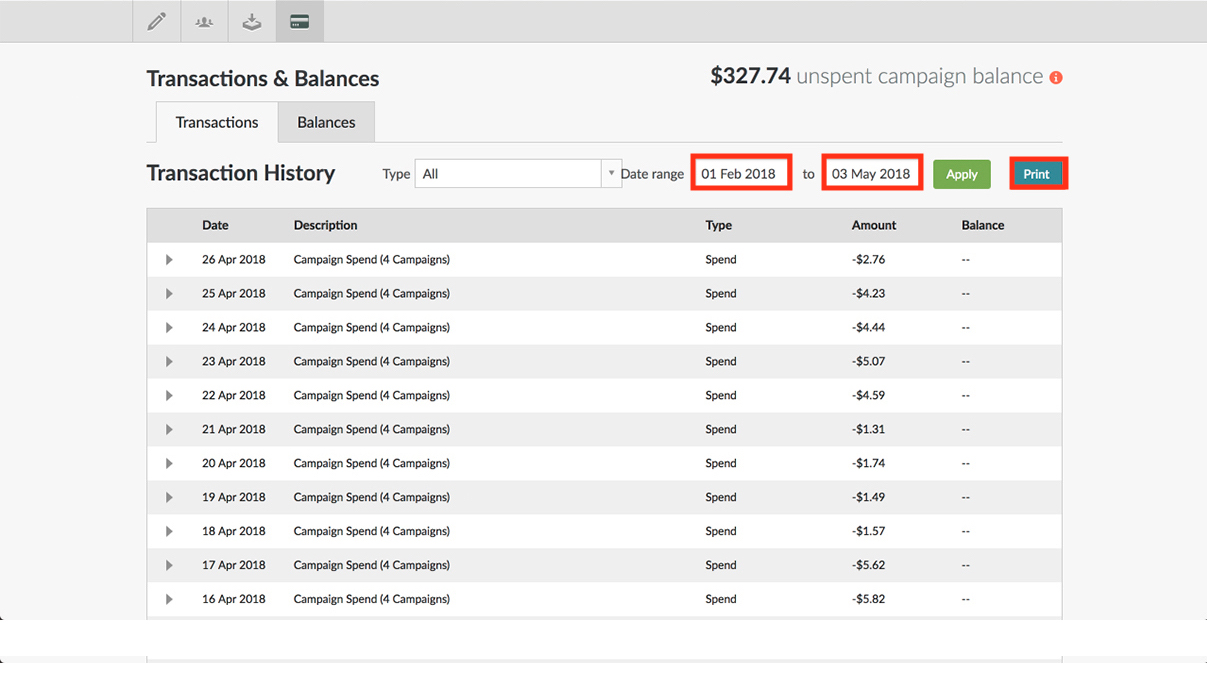 Transaction-Based Receipts
If your accounting teams need transaction-based receipts of any Choozle charges from platform fees to campaign funding charges, you can submit a ticket to the support center with the date and amount of the charge you need a receipt for.

The Media Coordinator team will reply with receipts for the charges requested.

For more information, please see our support article on Billing Receipts and Refunds.