GUIDE:
Subscription
Choozle offers one recurring monthly subscription. Our base subscription, priced at $99/month, includes:
Choozle's digital advertising software platform
Creation of unlimited advertiser accounts
Powerful analytics and dashboard reporting
Access to 60-plus premium third-party data providers
Personal support & online learning

The cost of your advertising campaign is customer-controlled, and there is no minimum ad spend. Real-time bidding (RTB) advertising campaigns are based on CPMs (cost per 1,000 impressions). The Choozle billing system charges the credit card on file as the campaigns are executed.
Data Packages may be added to an advertiser's account with a per-month cost beginning at $200/month per advertiser. Purchasing a Data Package enables your advertiser account Web Insights and the ability to upload CRM lists for matching actionable audiences. Included in the cost are unlimited Web Insights and the ability to upload 40k CRM records for matching. Additional CRM records can be uploaded each month at a $5 CPM to be billed separately.
With an enabled Data Package, you get Web Insights that provide demographic, psychographic and purchase behavior information on the user profiles collected at URLs you have enabled for Insights.
Additionally, your enabled Data Package grants you the ability to upload CRM lists of emails, or names, addresses, and phone numbers, to be matched to an actionable audience to launch account-based targeting campaigns.
Account Cancellation
Account cancellation can be done in-platform. Navigate to Account Settings on the desired account and select Request to Cancel Account.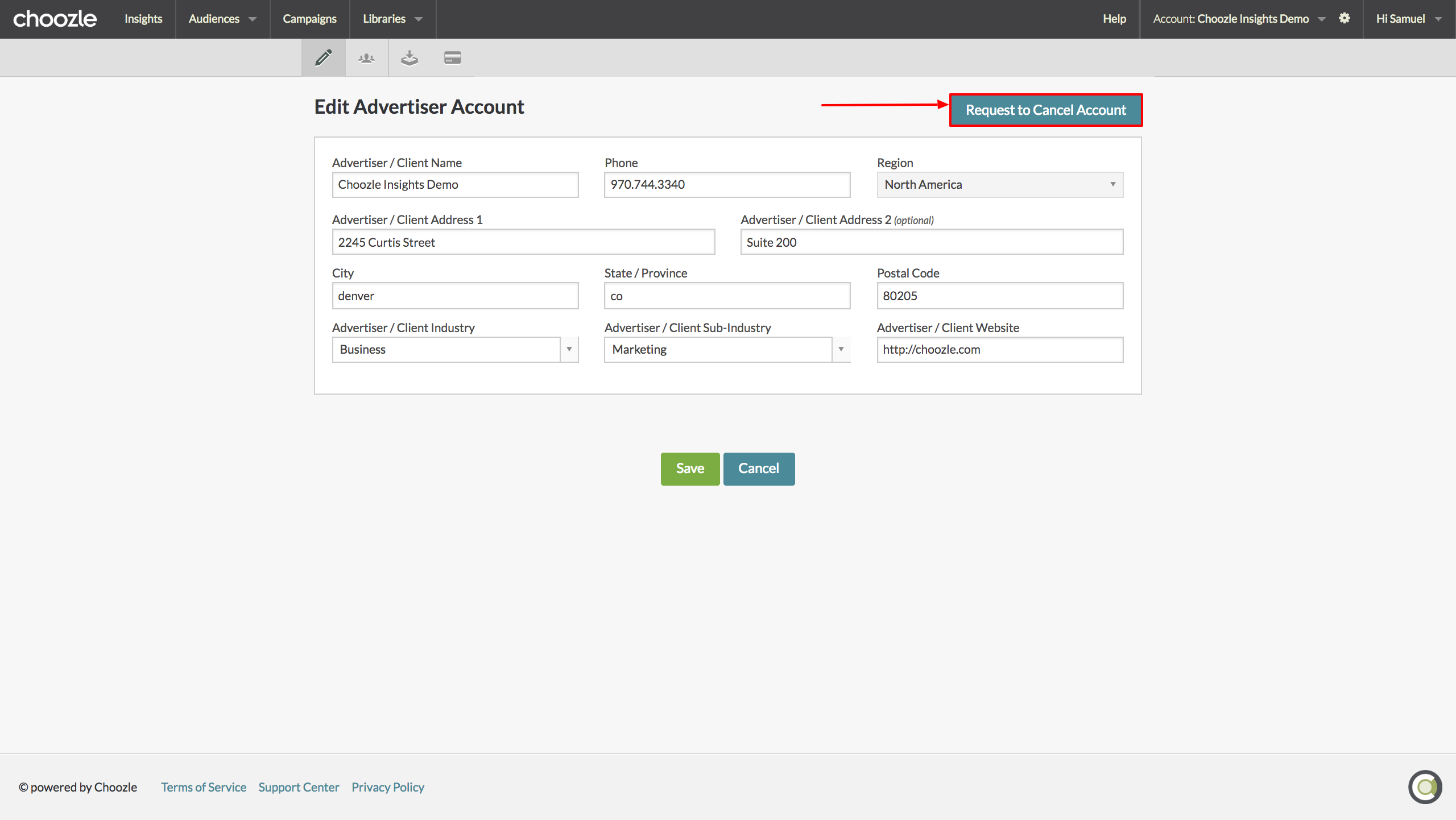 We process account cancellations two business days prior to your account's subscription renewal date. Since all accounts in Choozle renew on the first of the month, your cancellation request will be processed at the end of the month in which your request is received to ensure you get the most out of your subscription, but you won't incur any additional charges. Please note that all advertiser accounts must request cancellation in-platform if a master account wishes to cancel entirely and not be charged the $99 monthly platform subscription fee thereafter. Please reach out to the Client Engagement team in the Support Center if you have any questions regarding account cancellation.
Please make sure to extract any reports from your account before your cancellation request is due to be processed. We also ask that you remove the Choozle Smart Container Tag from your site within 24 hours, at which point you will lose any audience insights, retargeting pools, and campaign data. Any feedback you can provide regarding your cancellation would be greatly appreciated!